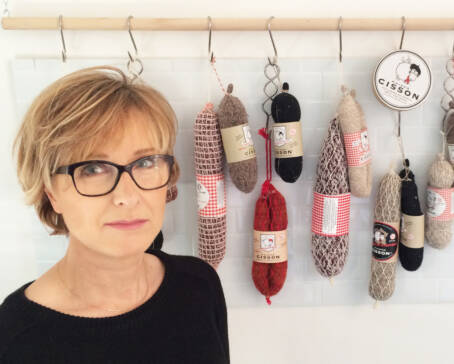 Decorate your kitchen
with knitted French saucissons
made for anyone and everyone!
Created by Catherine Kerboull, this authentic French charcuterie company was born during Catherine's business trips between Paris and Aix-en-Provence.
When making her knit saucissons, Catherine meticulously choses each wool and studies each specialty. With help from her sister, she has knitted and knitted and knitted… to create the incredible illusion of real saucissons.
And what has encouraged Maison Cisson to expand its collection and launch into a more intensive method of saucisson-making? Well, it's the fine blend of a taste for charcuterie in a country steeped in culinary traditions, the delight of having temptation-free knitted saucissons hanging in your kitchen and not forgetting the growing demand and interest from friends (and from friends of friends…).
Maison Cisson have a lot more surprises in store in the near future… Expect saucissons from all regions, for all tastes and for all religions!
Maison Cisson's saucissons are fat-free, stainless, won't dry out and will keep forever.
Vive la France and its wonderful charcuterie!
EnregistrerEnregistrer
EnregistrerEnregistrer